About
Cape Abilities has been an established business in Busselton since about 2005. Husband-and-wife team, Graham and Jo Mitchell, purchased the business in 2015 with a belief that excellent customer service was the key to success.
With a business supplying equipment to the aged, disabled, injured or unwell people, and all the associated healthcare sectors, it is particularly important to provide helpful, honest information, and be prepared to go the extra mile. Jo and Graham share a business mantra of "always do the right thing". 
How can we help?
Stocking a wide variety right here, in the South West

With a wide variety of stock available to view, it means that turnaround times are much quicker for trials and supply, as there is no need to wait to view stock from Perth or over East.


The business has grown over the years from a small retail outlet to not only having two large showrooms (in Busselton and Bunbury), but also offering hire equipment for more specialist requirements, and full installation service of anything from handrails and custom-made ramps to ceiling hoists.

Specialist training facility in Bunbury

With a specialist training facility in Bunbury, training is now offered on subjects such as using patient lifters to manual handling. Customised training is available, tailored to your organisation.




Cape Abilities has the largest display of hospital style beds in the South West and is able to provide private trials at both our Busselton and Bunbury facilities.

Ethical Selling Certified 

Our staff are fully trained in Non-Manipulative Ethical Selling. This means they keep our promise to provide helpful, honest information. Pop into one of our stores and put us to the test for yourself. We don't just talk about good customer service, we go all out to provide the best customer care in the South West. 

​
Why choose Cape Abilities?
Going the extra mile is not just a business decision, it's about giving back to the community that we all live in. This sets us apart from our competition.
Helpfulness

Whether we are working with an end-user client, their family or a health professional, we realise you are all our customers and we strive to make your life a little easier by being as helpful as we can.

Trust

We pride ourselves on building relationships with our clients based on honesty and trust. Our highest priority is what is best for our clients' needs.

Respect

We recognise the individuality of all our clients and will always treat each person with respect and dignity.
Meet our team
We firmly believe that happy employees lead to happy customers. Each staff member has been hand-picked because of their friendly demeanour, and willingness to always go the extra mile. Their professionalism is a given!
Jo Mitchell

With a professional background in marketing, it is Jo's genuine desire to make a difference, no matter how small, to other people's lives, that brought her to this industry. 

Graham Mitchell

With a head full of product knowledge and a willingness to go the extra mile, this man keeps pretty busy across the three business sites! As a keen gym bunny and gardener, he's left with little spare time for much else!

Jodie Parravacini-Sales Manager

A warm welcome awaits you in the Bunbury store from Jodie. Always a smile on her face, she tells us she is very happy in her work and enjoys the opportunity to serve the Bunbury community. She is efficient, competent and more than willing and able to assist, wherever she can. We think we have a real gem in Jodie!

Janine Plant

As an OT, Janine is passionate about supporting all those she works with to achieve their unique goals, maintain independence and thrive in their local communities. With a keen interest in seating and positioning, and wheelchair prescription, she is a self-confessed wheelchair nerd! She is always willing to lend an ear and will go the extra mile to help clients and therapists find the optimal equipment solution.

Lesley Allardyce

Lesley has a background in marketing, applied parenthood and, some would say, lawn bowling talent. Lesley aspires to the shared values of helpfulness, trust and respect across both her working and personal life except when there is an Eagles vs Dockers game on - then all bets are off!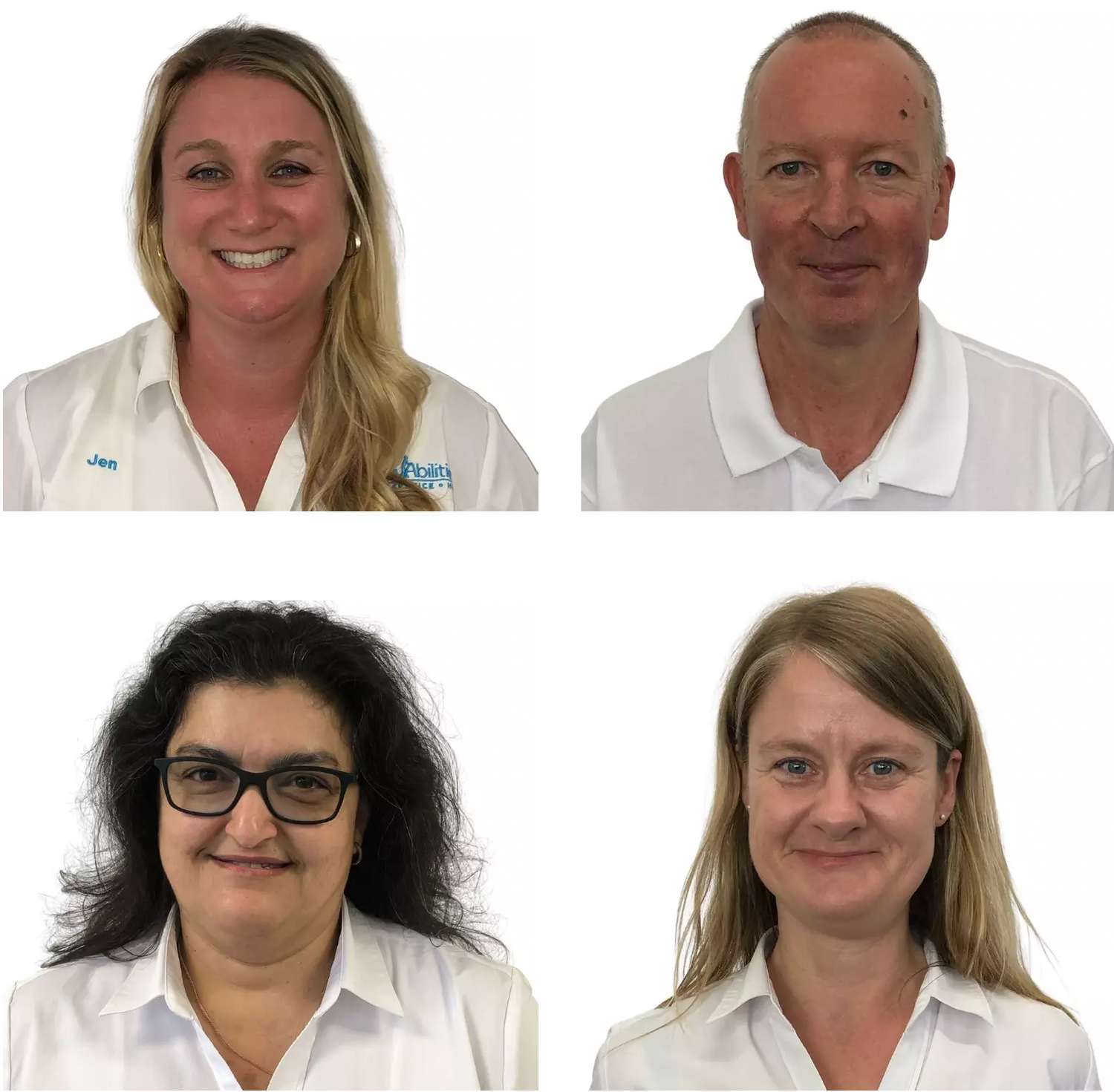 You may meet these friendly faces when you visit our Busselton or Bunbury store, or delivering your goods across the South West.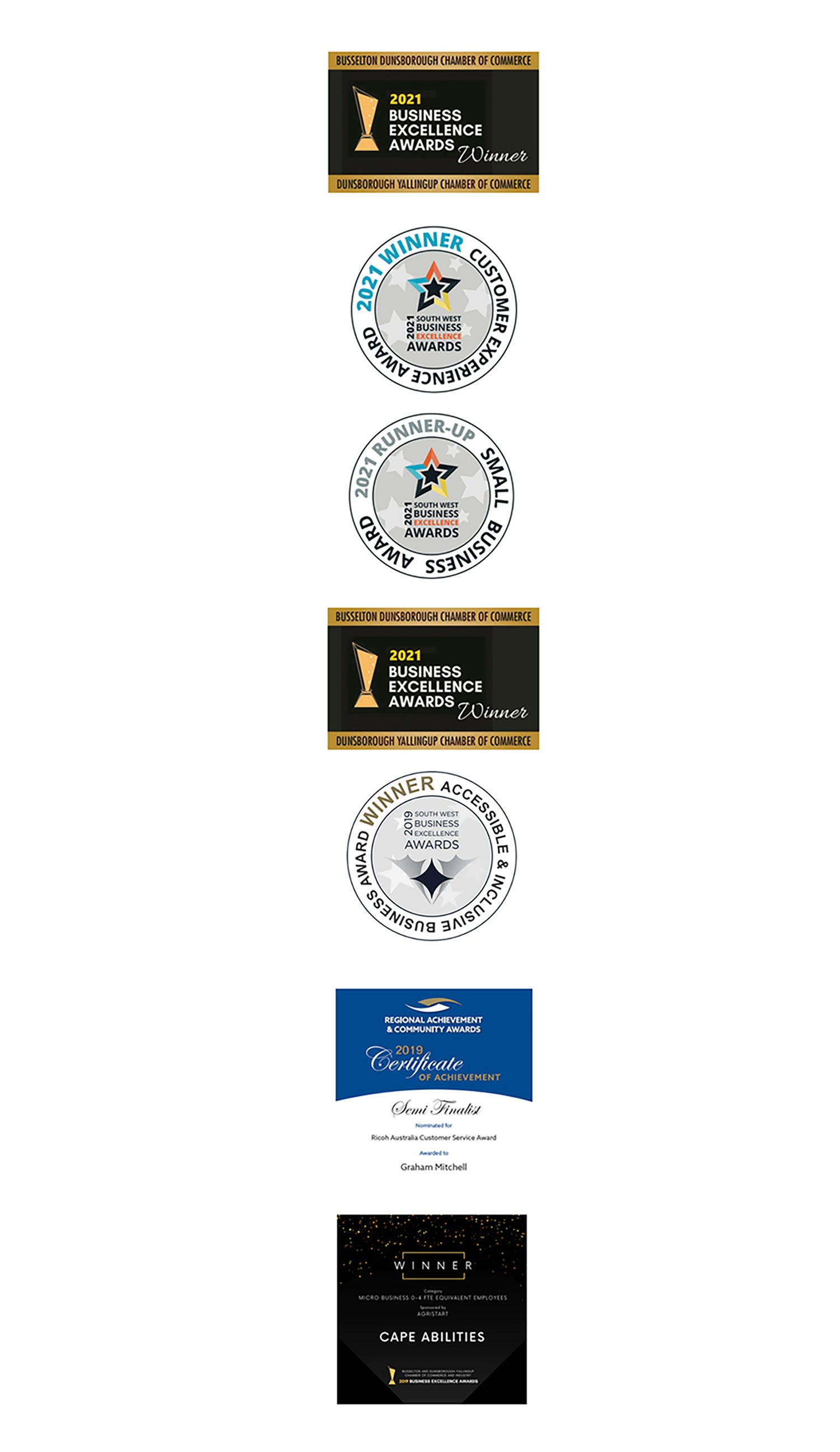 Awards & Recognition
The business gives us an opportunity to engage with the aged and disabled community. We feel by doing things because they are the right thing to do for a local community member, we are continually giving back.
2023 Winner Excellence in Customer Service
Busselton and Dunsborough Chamber of Commerce Business Excellence Award
2023 Winner Small Business 11+ FTE of the Year
Busselton and Dunsborough Chamber of Commerce Business Excellence Award
2023 Winner Outstanding Business of the Year
Busselton and Dunsborough Chamber of Commerce Business Excellence Award
2021 Winner Excellence in Customer Service
Busselton and Dunsborough Chamber of Commerce Business Excellence Award

2021 Joint Winner Customer Experience
South West Business Excellence Award
2021 Runner Up Small Business
South West Business Excellence Award

2021 Finalist Small Business 5-10 FTE Joanne Mitchell
Inclusivity and Diversity, Industry Leader and Regional Women in Business

2021 Finalist Employee of the Year Lesley Allardyce
Inclusivity and Diversity, Industry Leader and Regional Women in Business

2019 Winner Micro Business 0-4 FTE Equivalent Employees
South West Business Excellence Awards

2019 Winner Accessible and Inclusive Business
South West Business Excellence Awards

2019 Semi Finalist Ricoh Australia Customer Service Award Graham Mitchell
Regional Achievement and Community Awards
Button label